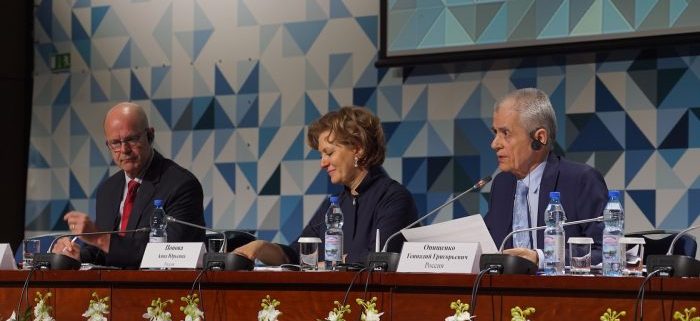 A record 3000 delegates from more than sixty countries, including representatives of civil society, scientific institutions, the private sector and governments, gathered in Moscow from 18 to 20 April 2018 to participate in the fourth Eastern Europe and Central Asia Conference on HIV/AIDS. The conference focused on four major tracks: prevention, science and treatment, civil society, and international cooperation.
Eastern Europe and Central Asia is the only region where the number of new HIV infections and AIDS-related death are still on the rise. The conference provides a unique opportunity to take stock of progress and discuss the challenges and transformation needed to get the Eastern Europe and Central Asia region on track to end AIDS.
The keynote speakers at the opening ceremony included Michel Sidibé, UNAIDS Executive Director, Olga Golodets, Vice Prime Minster of the Russian Federation, Anna Popova, Head of Russia's Federal Service for Consumer Protection and Human Wellbeing, Alexsey Tsoy, Deputy Minister of Health of Kazakhstan, Alexander Pankin, Deputy Minister of Foreign Affairs of Russia, Lyudmila Rastokina, a representative of the Kazakhstan's Union of People Living with HIV, and representatives of the private sector and others.
Despite the overall increase in HIV-related deaths and infections, in the past two years the Eastern Europe and Central Asia region has made progress in a few areas. For example, Armenia and Belarus were validated by WHO as having eliminated mother-to-child transmission of HIV. Most countries of the region adopted the test and treat approach and the average cost of first-line antiretroviral treatment has dropped from almost 2000 USD per person, per year to less than 200 USD per person, per year.
A number of key challenges were highlighted at the conference including the fact that only 3% of total HIV expenditures in the region go for programmes focused on key populations, including people who inject drugs, migrants, sex workers, transgender people, prisoners and men who have sex with men. The region also faces the triple epidemics of HIV, Tuberculosis and Hepatitis C virus which require an integrated approach to prevention, diagnosis and treatment.
The conference was organized by the Russia's Federal Service for Consumer Protection and Human Wellbeing and UNAIDS.
QUOTES
"Thanks to the efforts of scientists, the tireless work of doctors and civil initiatives, there is hope that we can defeat this disease. Russia consistently addresses this problem and actively works to counter HIV. The funding of specialized programmes grows each year and significant assistance is provided to Eastern European and Central Asian states for fighting this disease."
"Russia has everything it needs to end AIDS and help other countries in the EECA region. UNAIDS stands ready to work with the Russian leadership to develop and launch a Fast-Track plan for the Russian Federation as an urgent priority. I hope that by the time we are gathered here again for EECAAC in 2020, Russia will have reached 90-90-90."
"We are constantly monitoring the new treatment development, because it is important not only to buy medicine – we talk a lot about reducing its cost, the availability of this medicine in our country and abroad – but it is very important to form a culture of adherence to drug therapy, which is not so simple."
"Let's dream about the near future where in all countries of this region people who use drugs have access to harm reduction programmes, including substitution therapy and methadone. Where all countries in the region are using international evidence-based experience and countries do everything possible for rehabilitation of drug users."
Flickr API error:
Photoset not found
http://en.rus-aid.ru/wp-content/uploads/2018/04/itogippp-700x400.jpg
400
700
admin
http://en.rus-aid.ru/wp-content/uploads/2015/02/logoru-300x138.png
admin
2018-04-18 14:00:16
2018-05-28 18:27:04
VI Eastern Europe and Central Asia Conference on HIV/AIDS opens in Moscow