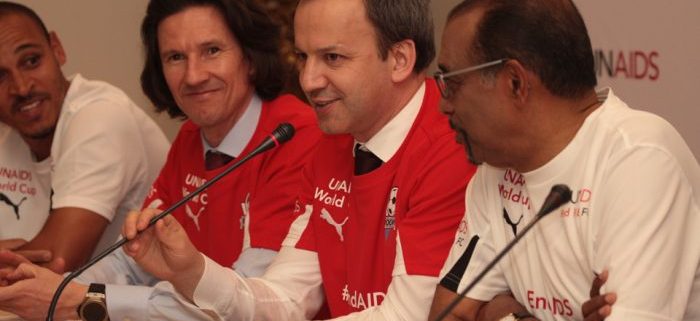 Russian and international football legends and Russian players living with HIV joined forces on 17 April to play the first football match of the UNAIDS World Cup for Ending AIDS and Discrimination. International and national football stars draw attention to the stigma faced by people living with HIV and demonstrated the value of goodwill, solidarity, and human values towards ending stigma and discrimination.
The match took place in Moscow on the eve of the opening of the 6th Eastern Europe and Central Asia AIDS Conference. This was the first of a series of matches to be held with support from FIFA in several different countries in the lead up to the 2018 World Cup which will be held in the Russian Federation from 14 June to 15 July 2018. The initiative highlights the need for zero discrimination on the basis of race, nationality or HIV status – both on and off the pitch.
The Russian FC "Rosich" team was led by its captain, Deputy Prime minister and chairman of Organizing Committee for the FIFA World 2018, Arkady Dvorkovich. Team members included Minister of Energy, Alexander Novak, former Russian international and FIFA Anti-Discrimination Officer for the 2018 World Cup, Alexey Smertin, as well as former Russian internationals Dmitry Bulykin, Roman Shirokov, Evgeny Aldonin, Dmitry Sennikov, Oleg Kornaukhov, Marat Makhmutov, Vladimir Leonchenko and Roman Berezovsky.
Michel Sidibe, UNAIDS Executive Director, coached the UNAIDS "Red Ribbon" team which was captained by former Cameroon international Samuel Eto'o. The Red Ribbon team featured former Senegal international, Abdoulaye Diagne-Faye, former French and Martinique international, Julien Faubert, former French under-21 international, Florent Sinama-Pongolle, former Nigerian international, Peter Odemwingie, former Moroccan international, Jaouad Zairi, Brazilian-born former Bulgarian international, Marcelo da Costa, former Palestinian women international and FIFA official, Hone Thalidjieh and former Madagascar international, Alister Veerasamy.
QUOTES
"I think the AIDS conference is a good basis for intensifying the efforts against HIV in Russia and worldwide. We are happy to contribute to the response by attracting football players, politicians and other famous people. I hope that our efforts will have an impact in preventing discrimination in any sphere."
"Football is more than just a game. It is a vehicle for connecting people and building a bold social movement for change. It is an honour to launch the UNAIDS World Cup for ending AIDS and Discrimination campaign together with partners from the Russian Government, the FIFA World Cup 2018 and international football stars here in Moscow."
"We perceive football as much more than simply a game of 90 minutes of play. It also brings very important feelings of respect, fraternity and togetherness into our lives. The simple fact that Russian and international players together with Russian HIV positive players have chosen to play in this match clearly shows that we stand united in working towards achieving zero discrimination regardless of race, colour, faith, gender or HIV-status. We will do everything we can to make that all the players and fans coming to Russia for the FIFA World Cup 2018 feel welcome, at ease and at home."
http://en.rus-aid.ru/wp-content/uploads/2018/04/3I8H2208-700x400.jpg
400
700
admin
http://en.rus-aid.ru/wp-content/uploads/2015/02/logoru-300x138.png
admin
2018-04-17 20:10:40
2018-05-28 18:27:46
UNAIDS World Cup for Ending AIDS and Discrimination kicks off in Russia